Roman gladiators fought lions, bears, tigers, and each other to the death. They often fought barefoot, with little armor, and bronze weapons. The gladiator you see glorified in the movies are ripped to the bone with huge muscles and the athletic skills that match some of the best combat athletes today.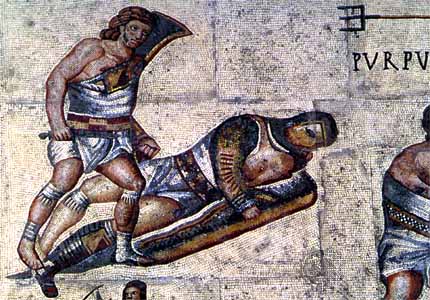 It would take months, maybe even years to turn the average guy into a tough gladiator. Luckily, you don't have a need to fight lions, tigers, and bears (oh my!). However, training like a well conditioned athlete will prepare you for any challenge that may come your way – both physical and mental.
Get Tough like a Gladiator
The first step to turning into a Gladiator is to get mentally and physically tough. Circuits are your answer. Choose 3-4 exercises and perform them back to back with little to no rest in between each set.
Move from one muscle group to the next as smoothly as possible. Combining Dumbbells with Bodyweight exercises provide you with the opportunity to create easy, simple to perform circuits that are dangerously effective.
This is because there's not complicated equipment to set up. And you don't need spotters the way you would if you were using a Barbell. Also, Dumbbells very closely match some of the hand held weaponry used by Gladiators.
But don't just settle into circuit training. Experiment with other forms of training such as interval training, supersets, trisets, pyramid training, inverse pyramids, ladders, etc.
There's a million things you can try! But make sure to consistently make your workouts more and more intense. After a while you will reach a point in your workouts where you need something known as "mental strength" to get through them.
This is basically the part where you start talking to yourself to convince yourself to keep going.
Get in Shape like a Gladiator
Getting in shape like a Gladiator is more about consistency than some secret training routine. Try to train at least 3 days a week with a program that includes both strength and some form of cardio training.
The cardio training can consist of intervals, bodyweight cardio, or hard cardio such as sledgehammer swings, jump roping, or shadow boxing. Make sure your strength training routine revolves around compound movements.
However, the most important thing is to focus on strengthening your core. Your core consists of your abdominal and lower back region. Movements such as Dumbbell Swings and Planks should do the trick.
Get Strong like a Gladiator
Getting stronger is very important. If two gladiators are of the same height, weight, and skill level then it's going to be the stronger one that over-powers the weaker one.
In addition, as you get stronger, your potential to improve power also improves. Explosive power is very important in all aspects of life – whether it be playing basketball with your buddies, or sprinting to catch your bus.
To get stronger, stick to compound lifts such as chest press, shoulder presses, deadlifts, squats, and rows. I bet you using just those five movements alone will help you get stronger.
Focus on lifting as a challenging enough weight. An adjustable dumbbell will be your best friend. Especially if you train at home. This way, you can easily add weight to your movements each week without having to constantly purchase a new set of dumbbells.
Get Big like a Gladiator
You may not want to get big and bulky, but getting bigger is just as important as mental and physical strength. For example, if two gladiators are of the same height, same strength, and same skill level, then the guy who's going to be tougher to knock down and hurt will be the bigger guy.
Most of what you've already been doing – circuits, compound movements, consistent training – should help you get big. If you still haven't packed on any size, then take a good look at your nutrition.
Protein intake is important. I don't believe that there is a formula that tells you how much you should eat. However, gradually increasing your protein and caloric intake over time should help.
Keep it gradual. If you jump to eating 2000 to 4000 calories within a few days, your body will be unable to process all the food intake and you'll end up feeling really bad.
If you're serious about improving your body and transforming into a modern day gladiator, then I suggest you check out the Gladiator Body Workout. Click here for more information.