Here's another great bodyweight workout program from Turbulence Training. It's called Mini Bodyweight Circuits. These are really great workouts you can use when you're EXTREMELY short on time.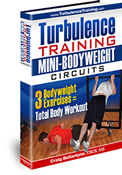 In the following video, Craig Ballantyne shares workout A from the full program. You start the workout with Chinups. Perform just 2 repetitions short of failure. This means that if you can do 10 chinups as your maximum, do just 8 repetitions.
If you don't have a bar, then substitute the chinups for pushups instead. Perform 2 repetitions short of failure. Follow up with 25 prisoner squats. Try to do these all in a row, but you can take breaks in between if you can't do all 25 in a row.
Finish off the circuit with reverse lunges. Perform 15 repetitions each leg. You can use weights if you have access to them, but only for the reverse lunges. This is one circuit.
Perform the circuit 2-4 more times, depending on your fitness level. Check out the video: