I'm tired of all the garbage written about how one should train in the gym. Oh, you need to do this, and you need to do that. Forget the rules, and create your own set of parameters. The following three are rules I've used with lots of success that go against the grain:
Rule #1: Forget about Sets and Reps
Most people perform 3 sets of 10-12 repetitions per exercise. Well, when it comes to bodyweight training we have no choice as to what kind of weight we're going to use.
For example, if you were doing barbell curls for 12 repetitions, you can adjust the weight as you get stronger. This is not true for bodyweight training, and so what most trainees do is steadily increase the number of repetitions for each workout.
So you may start out at 3×12, the next week you're at 3×15, etc. The problem I have with this is that on some days 3×15 might be really difficult, on other days 3×18 might be easy.
You never really know what you can do on a particular day with bodyweight training. So the best technique I like to use with bodyweight training is to choose a really high number, lets say 50 repetitions forpushups, and just go at it.
The goal now is to complete those 50 repetitions as fast as possible. So perhaps on the first day, you may do sets of 30 – 20. On the second day you may get stronger and do 40-10.
You might end up performing a full set of 50 reps. But the point is, if you just kept steadily increasing by 3-5 reps each training day, you might have never reached 50 reps in one set.
In short, focusing on total reps and trying to complete the reps in a shorter amount of time pushes your body and allows for quicker progress than the traditional system of sets and reps.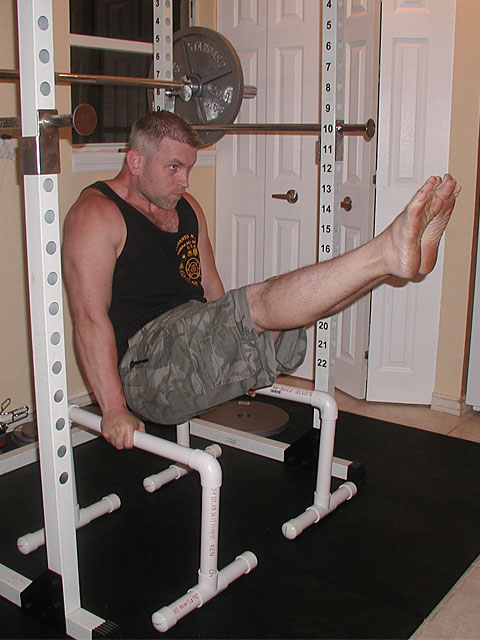 Image by Drew Baye
Rule #2: Don't Isolate Muscle Groups
Traditional bodybuilding tells you to train each muscle group no more than 1-2 times per day. The idea is to split up your body into as many little pieces and isolate, isolate, isolate.
Well, with bodyweight training, its pretty difficult to isolate. And lets say we did isolate, then no one would be doing any pushups, pullups, or bodyweight squats, which are the three primary exercises when it comes to bodyweight training.
If you want to isolate, then don't do bodyweight training. If you want to improve your health and athleticism without relying on expensive equipment and costly gym memberships, then listen to me.
Get into the habit of performing compound exercises that work multiple muscle groups. This means that if you train 3 days a week, there is a big chance that you will be hitting each muscle group 3 times per week.
The closest thing to isolation you can do is follow an upper body/lower body split. Or, you can do all pushups variations on day one, pullups variations on day two, and lower body exercises on day three.
Even with this kind of training, you'll be surprised by just how interconnected your body is. For example, I once did a workout that involved close to 100 pullups, and when I woke up the next morning, my back, chest, and abs were sore.
Image by The Fitness Game
Rule #3: Set a Deadline for Accomplishment
You're probably used to resting at least a minute between each set and exercise, right? Well, with there is no room between rest between sets when with the new rules of bodyweight training.
As I mentioned in Rule #1, when you time yourself, you are motivated to move faster. As I've realized from experience, just a 10 second improvement in time is tough to accomplish and requires a lot from your body.
But I've seen drastic improvements in both myself and my training partners when I've designed workouts where there was a set time limit. For example, one of our most brutal workouts were to perform 5 rounds of 10 burpees and 10 deadlifts within 7 minutes time.
Normally, a workout like that would take at least 10 minutes, with most trainees spending the time between each set for rest. To illustrate my point, lets assume that I did not set that 7 minute goal.
What my training partners would have probably done is rest after each set. Lets assume my time was 12 minutes, 30 seconds. Then my training partner goes and he paces himself so he can complete the workout in under 12 minutes, 30 seconds.
As long as he beats me, he's happy. Do you get what I'm saying now? When you set a time limit from the beginning, the first guy who goes already knows he needs to beat that 7 minute goal.
Now, the second guy will either need to get it under 7 minutes, or beat his partner (who has already beat the 7 minute mark). Setting a time frame like that gives you a reason to push yourself.
Here's the video from our workout:
If you want more information on high intensity home training, then you should check out Gladiator Body Workout::
Gladiator Body Workout
Gladiator Body Workout is an Athletic Fitness system which combines Dumbbell and Bodyweight exercises along with interval training to help you Drop Fat, Build Lean Muscle Mass, Get Stronger, and Improve Athletic Performance.
If you purchase the Combo Pack, you can also get two other eBooks which Author Coach Eddie Lomax sells separately: "Ultimate Gymless Workout" and "Extreme Dumbbell Fitness." When you include all the workouts in all three systems, you'll get literally months worth of fitness programming.
The Basic version sells for just $27. Each separate eBook in the Combo Pack sell for $27 but coach is giving them to you for just $49.00.
I'll Give you TWO FREE Bonuses if you Grab Gladiator Body Workout Today. Click Here for More Information
Share and Enjoy
Comments
comments