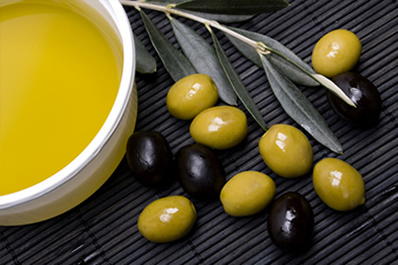 Eating out is the toughest thing to do when trying to lose fat. In fact, I'll tell you right now: If  you're serious about losing weight, limit the amount of days per week that you eat out.However since eating out is inevitable, I would like you to print out this guide and use the points as a blueprint to navigate your way when eating out.
Fat
The number one tip that is going to help you in making better decisions is to differentiate between good fats and bad fats.
Good fats are monounsaturated and polyunsaturated fats. Here is a list of the best sources of good fats:
Olive oil
Canola Oil
Sunflower Oil
Peanut Oil
Sesame Oil
Avocados
Olives
Nuts (almonds, peanuts, macadamia nuts, hazelnuts, pecans, cashews)
Peanut Butter
Soybean Oil
Corn Oil
Safflower Oil
Walnuts
Sunflower, sesame, and pumpkin seeds Flaxseed
Fatty Fish (salmon, tuna, mackerel, herring, trout, sardines)
Soymilk
Tofu
Bad Fats are saturated and trans fats. Here is a list of sources of bad fats:
High-fat cuts of meat (beef, lamb, pork)
Chicken with the skin
Whole-fat dairy products (milk and cream)
Butter
Cheese
Ice cream
Palm and coconut oil
Lard
Commercially-baked pastries, cookies, doughnuts, muffins, cakes, pizza dough
Packaged snack foods (crackers, microwave popcorn, chips)
Stick margarine
Vegetable shortening
Fried foods (French fries, fried chicken, chicken nuggets, breaded fish)
Candy bars
If you just focus on avoiding all bad fats, and embrace good fats, it will be that much easier for you to make healthier decisions. For example, when you try to decide where to go out to eat, then make sure you find a place that sells grilled chicken over fried or breaded chicken.
Fast Food
Going out to a restaurant for dinner with friends once in a while is ok. However, if possible, please avoid fast food. Even though many fast food restaurants are promoting healthier options, the food in these places is not always fresh.
Fast food is not always avoidable, especially if you have a job that always keeps you on the road. So, it's a good idea to have a nice list handy of what the best options are at particular fast food restaurants.
The following is a great list of foods you can use in particular fast food restaurants:
Arbys – Jr. Roast Beef Sandwich
Baja Fresh – Shrimp Baja Ensalada
Mimi's Cafe – Chicken Piccata with Asparagus
KFC – Honey BBQ Sandwich
Taco Bell – Fresco Crunchy Taco
Taco Bell – Fresco Ranchero Chicken Soft Taco and a side of Mexican Rice
IHOP – Simple & Fit Spinach, Mushroom and Tomato Omelette with Fresh Fruit
Olive Garden – Cheese Ravioli with Marinara Sauce
Olive Garden – Venetian Apricot Chicken
Uno's Chicago Grill – A slice of Roasted Eggplant, Spinach, and Feta Thin Crust Pizza
Chili's – Guiltless Grill Classic Sirloin
Panda Express – Broccoli Beef
Applebees – Grilled Shrimp and Island Rice
Boston Market – Roasted Turkey Breast with Potatoes and Fruit Salad
Jamba Juice – Strawberry Nirvana (16 ounces)
Quiznos – Low-Cal Choose 2 Duo: Roadhouse Steak Sammie and a bowl of Chicken Noodle Soup
Denny's – Customize the Grand Slam ( egg whites, turkey bacon, chicken sausage patty, and wheat pancakes).
Sonic – Jr. Burger with a side of Sliced Apple Wedges
Outback Steakhouse – Outback Special Steak, 9 ounces, with fresh seasonal veggies (without butter)
Au Bon Pain – Vegetable Beef Barley
Chick-fil-A – Chargrilled Chicken Sandwich with mustard
Dunkin Donuts – Egg White Turkey Sausage Flatbread
Chipotle – 3 Hard Tacos (with chicken and cheese)
Auntie Anne's – Raisin Pretzel
CarbohydratesJust as good fats and bad fats, there are good carbohydrates and bad carbohydrates. Good carbohydrates are complex carbohydrates. The bad ones are the simple carbohydrates.
One example of simple carbohydrates is sucrose, or white table sugar, which is completely unnecessary for your body. Good simple carbohydrates include fructose and lactose. These good simple carbohydrates come from whole foods that provide high amounts of vitamins and minerals.
Complex carbohydrates take longer to break down, and so slowly raise your blood sugar levels. The key to weight loss is to keep your blood sugar levels at a stable level. The only time you want to spike your blood sugar levels is after a workout.
When you're eating out, avoid eating pasta, bread, or rice as much as possible. Some of the options listed above do include pasta, bread, or rice. However, they are also very high in protein.
If you are planning on eating a high-carbohydrate meal, make sure you schedule your workout about an hour or two before the meal. This will ensure that the calories go to your muscles, rather than your belly.
Salads and Soups
Many people think that when eating out, you should just focus on the salads and soups. However, this is flawed thinking. Check out this video from Mike Chang:
Kind of eye-opening, no? Mike is right, if you are going to end up eating a lot of calories when eating out, make sure that most of those calories come from lean protein and healthy fats.
Sample Restaurant Workout
There are going to be times where you mess up. Its inevitable. Instead of feeling guilty about the mess-up, why not just workout and try to burn off as many excess calories as you can?
Of course, do the following workout after you're fully digested your meal, or else you'll throw up. The following workout performing without the backpack is just as effective:
Click Here for More Awesome Home Workouts
Coffee
Aah… no eating out guide is complete without talking about coffee. See, coffee is perfectly fine without all the milk and sugar.
If you can drink black coffee, or minimize the milk and sugar, then coffee is perfect for you. However, most people are unable to drink straight black coffee.
A better option is tea. Grab some flavored tea, and sip it when you feel you need a little caffeine boost.
Thanks for checking out this eating guide guys! Don't forget to share this guide with your friends through facebook and pinterest!