Everyone's heard of the brand new Turbulence Training Kettlebell Revolution program that as recently launched, right? It's from Chris Lopez, the first ever Turbulence Training certified instructor.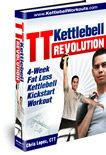 Well, he's developed a short, 4-week course, rightly named the "Kettlebell Kickstart" 4-week program. This is an introduction to Chris Lopez' intense style of Kettlebell Training.
If you're really serious about venturing into the world of Kettlebell training, then you want to grab this program. Click here to learn more.
Slash Your Bodyfat!
This workout looks so simple on paper, but once you try it, you'll be a believer. It's super high intensity, you can hit all of your major muscle groups at once in a very short amount of time, and with just one simple piece of equipment!