GET STARTED TODAY WITH OUR MOST POPULAR PLAN: THE SHAH TRAINING PLAYGROUND WORKOUT
Finally, forget the gym, skip the steady state cardio, and get a lean, mean physique while working out in the playground...or at home!
3, 15-minute bodyweight workouts:

learn how to use bodyweight training to burn fat and build lean muscle mass

Tips, Tricks, & Tools:

discover how to schedule your workouts around a busy schedule and maximize your training time.
Everyone's heard of the brand new Turbulence Training Kettlebell Revolution program that as recently launched, right? It's from Chris Lopez, the first ever Turbulence Training certified instructor.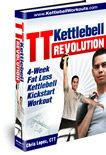 Well, he's developed a short, 4-week course, rightly named the "Kettlebell Kickstart" 4-week program. This is an introduction to Chris Lopez' intense style of Kettlebell Training.
If you're really serious about venturing into the world of Kettlebell training, then you want to grab this program. Click here to learn more.