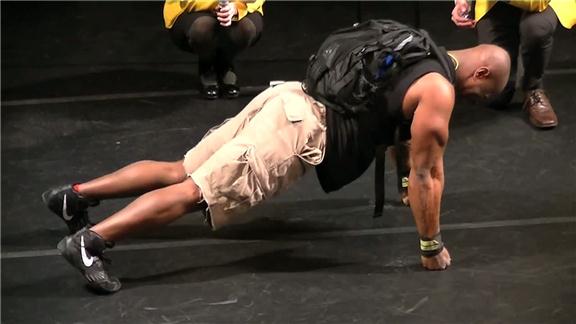 On Saturday, July 21, 2012, law student Brandon Gatto set the Guinness World Record for the most
pushups
performed in one minute with a 100 lb backpack. He did 45 pushups.
That's a shame to many of us who can't even perform 45 pushups in a minute with our own bodyweights!
"If I could put the feeling into a word right now, it would be proud," Gatto said of his accomplishment. "It's still sometimes difficult for me to believe that this is an international competition, so I certainly feel proud, not only as an Old Forger, but also as an American."
Gatto blew past the original record of 34 pushups in one minute!
The reason I'm writing this is because many of us are bored with our workouts and it's time to challenge ourselves. So grab a timer or stopwatch and see how many pushups you can perform in 1 minute.
Challenging yourself is one of the keys to exercise success.
Early on, my success with exercise came with training with my friends. Now that we've grown up and our live have become more complex, it is difficult to find time to workout together.
So, I have to come up with ways that I can push myself on my own.
Setting up challenges are a great idea! Here are some challenges I've used to keep my workouts interesting. You can perform these as stand-alone workouts if time is short, or at the end of your workouts as finishers:
One minute strength test – choose pullups, chinups, dips, pushups, or decline pushups.
Perform 50  Jump Rope Double Unders as fast as possible without stopping. (The most of I've done is 32 without stopping)
Perform X number of KB Swings for time – Start off with 50 reps, then gradually add to that number as you get better at KB Swings
Set the timer for 2 minutes, and see how many burpees you can perform in that time period.
If you're looking for even more great finishers to add at the end of your workouts, I recommend checking out Mike Whitfield's Workout Finishers. Click here to learn more!
Burn Fat with Calisthenics!
Finally...learn how to get in shape at home or in the park with limited to no equipment. Your bodyweight is all you need with these intense workouts...