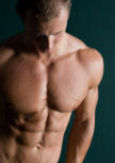 To put on muscle fast, you need to stick to the basics. You only need one or two basic movements per bodypart. The less movements you can do to get the job done, the better.
Setting Up a Program
Choosing a Training Split
Choose a training schedule based upon your training schedule. A typical schedule involves training 3 days a week on a Monday/Wednesday/Friday schedule. A training schedule should also take into account how quickly you recover from a workout. If you are following a full-body split, then it may take you to two to three days to recover from your workout. However, if you are training half your body one day, and the other half on the next day, you can work out more frequently.
Choosing the Exercises:
Choose 4 to 6 exercises to focus on, then split them according to your training split.
Core Exercises:
Deadlift
BackSquat
BenchPress
Bent-overRow
Pull-ups
MilitaryPress
Full-body Routine
Full body routines can also help you put on muscle fast. For full-body routines, you do not need to perform all 6 exercises in one routine. Split the workouts up amongst 2 workouts in this way:
Workout A:
Deadlift
BenchPress
Pull-ups
Workout B:
BackSquat
Bent-overRows
MilitaryPress
Push/Pull
Push exercises are all exercises that involve you to push a weight away from your body:
BackSquat
BenchPress
MilitaryPress
Pull exercises are all exercises that involve you to pull a weight towards your body:
Deadlift
Bent-overRow
Pull-ups
Push/Pull/Legs
A push/pull/legs split is yet another great way to put on muscle fast. For this split, you would simply take the two lower body exercises out and give them there own day.
Sets/ Reps
To build muscle, keep your set/rep volume between 36-50total reps. For example, performing 6 sets of 6 repetitions is a total of 36repetitions for that particular exercise.
Start off with lifting 70-80% of your one repetitionmaximum. Gradually increase the weight as the weeks go by.
Rest 60 –120 second between each set.
Supplementation
I personally do not like to take supplements. Supplements are "supplements" to your diet and training. Only take supplements when and if you have your diet and training in order.
If you want to really put on Muscle Fast then I recommend grabbing his bulking guide, where Vince Delmonte shares with you the exact diet that helped him pack on 7 lbs in 21 days!
Grab the free guide below by entering your name and email address: